As a photographer for 20 years I tried every supplier available, I was sick of paying too much for products and making suppliers rich. 7 years ago I developed Industry Partnership with the view of supporting Photographers based on a not for profit model supplying innovative quality products from reliable suppliers. If you are a business minded photographer who wants to
save up to $30,000 per year
on products please have a look at what other photographers have to say about Industry partnership.

"my clients and I are loving the affordable approach to your Albums and I am so happy to be able to provide a product of such high quality. Thank you sooo much,"
Allison.
Tales of Tingewick Melbourne
"Thank you thank you thank you!! I attended our major bridal expo last week and used the large acrylic metallic paper floating wall mount as my showstopper, it looked stunning under lights. I also displayed my new sample album with the embossed cover metallic paper gatefolds WOW was the word. I am blown away by the quality. I decided to include a "FREE" mini replica album in each package (thanks for the idea) i have never seen such response awesome. Thank you"
Helen.
Helen McConnell Photography Brisbane
"Just letting you know I have received a huge response to my New sample album with the metallic paper and art paper everyone loves it. Also I have finally changed my price list to reflect the $400 per album savings I am making. Results are business is booming. Luvin it all"
Nicolle.
McCarthur Photography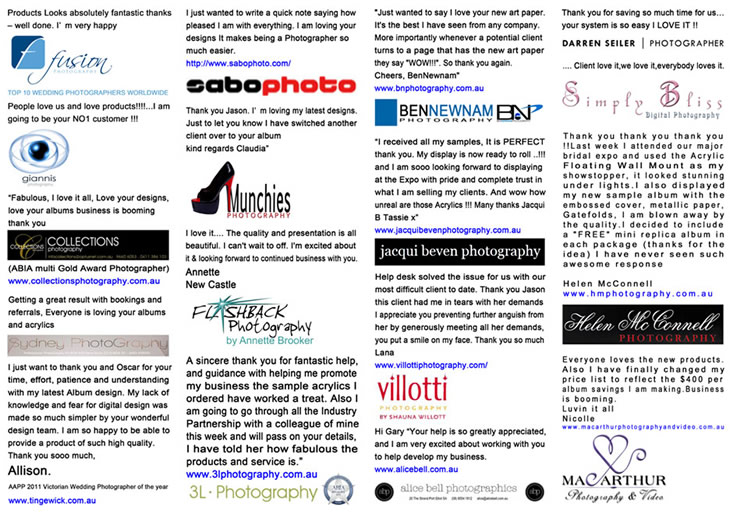 Get Your Free Account Now!